Riverfront shaded sites at an eastern Virginia RV campground
What could be better than a waterfront campground set amid the banks of beautiful Piankatank River? Not much — and Chesapeake Bay RV Campground offers just that. With 280 acres of space to enjoy, this coastal Virginia RV campground makes it easy to create lifetime memories.

With full hook-up sites, tent sites, cabin rentals and a friendly, welcoming, 24-hour staff, Chesapeake Bay RV Resort is equipped with plenty of activities. Upstream from the Chesapeake Bay, Piankatank River is perfect for water skiing, jet skiing, swimming, fishing, crabbing and boating.

Nearby are 3 "living history" towns of unparalleled historical significance. Colonial Williamsburg, Yorktown and the Jamestown Settlement make up what is known as Virginia's "Historical Triangle", and the beautiful Colonial Parkway that connects them is worth the drive if you do nothing else. Three charming villages - Gloucester Courthouse, Mathews Courthouse and Urbanna - are within a half hour's drive, with unique shops, historic buildings and museums, wonderful restaurants, art studios and galleries.

Waterfront dining and shopping can be found in Yorktown, Gloucester Point and Urbanna. For the kids, Busch Gardens, Water Country USA and Paramount's King's Dominion are also within easy driving distance.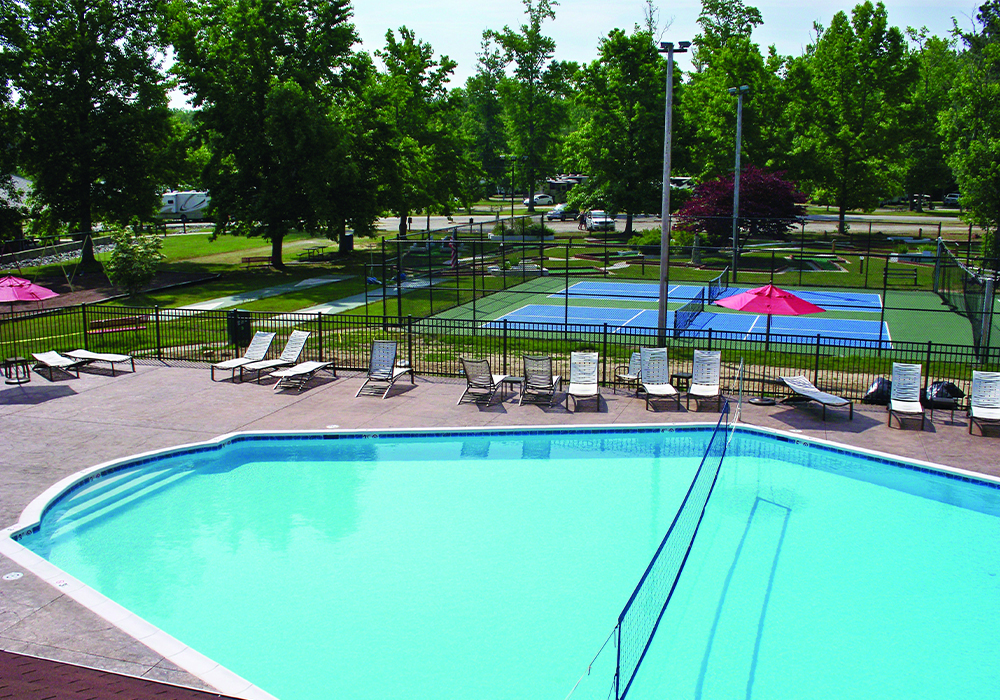 Amenities
Clubhouse

Bike Trails

Shuffleboard

Swimming Pool

Whirlpool/Spa/Hot Tub

Fishing

Creek / Lake / Canal / River / Ocean Frontage

RV Storage

Pets Welcome

Store

Nature / Hiking Trails

Mini Golf

Restroom/Shower Facilities

Laundry Facilities

Boat Docks/Marina

Boat Ramp

Waterfront sites

Picnic/BBQ Area

Playground

Volleyball

Basketball

Horseshoes

Ballroom/Banquet Hall

Billiards/Game Room

Library

Pickleball

Dog Park
Activities
Whether you're planning a retreat for the whole family, a group of friends or a getaway for two, there's no shortage of unique activities to explore at Chesapeake Bay RV Resort. Plan activities upon arrival or visit this page before your departure to plan ahead. Looking for more? Our friendly staff can fill you in on all of the great ways to make your stay a memorable experience.
Activities Center
Activities Director
Beach Fishing
Bingo/Card Playing
Card Room
Children's Playground
Church Service
Dancing
Kids Activities
Line Dancing
Live Entertainment
Mini Golf
Planned Activities
Potlucks
Square dancing
Tournaments
Volleyball
Sand Badminton
Weekly Dances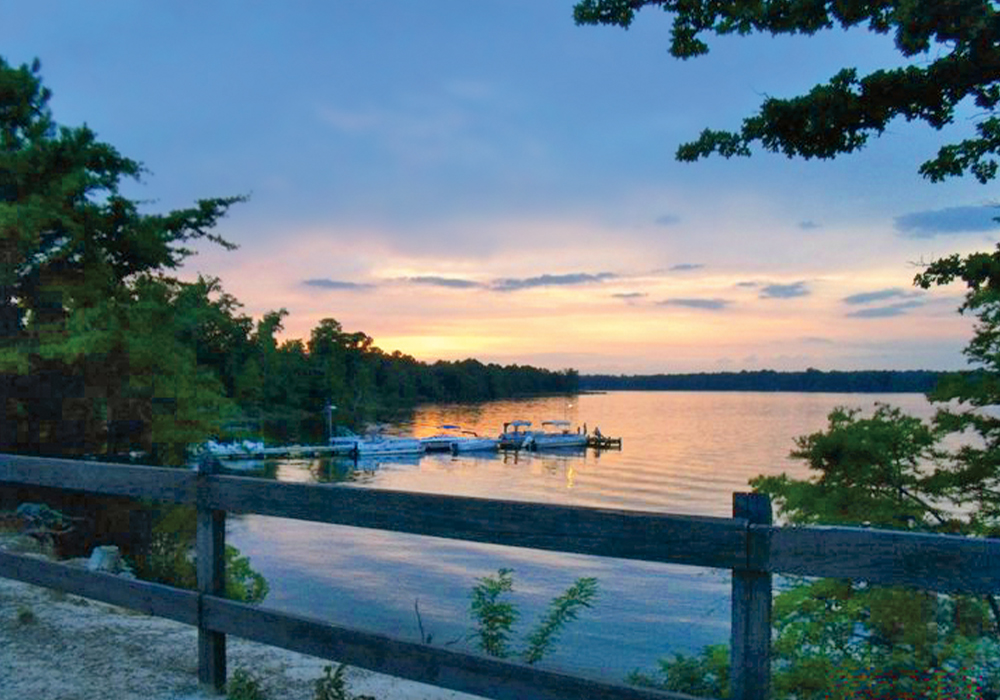 Ways to Stay
Resort News
Chesapeake Bay Bathhouse Closure
Our E Section Bathhouse will be closed for renovation from May through August.
General Policies & Information
General Policies & Information
Check-in/Check-out & Hours
Campsite check-in: 12 noon
Cabin check-in: 4 p.m.
Campsite & check-out: 11 a.m.
Upon check-in you may be asked to provide a valid ID, and a certificate of insurance and registration for your camper. Members should also have their membership card on hand.
Minimum check in age is 18 years.
Guests aged 24 years and under at the time of check-in are considered children.
All parties included in a reservation must check-in together. If the parties arrive separately, a $10 per vehicle guest fee will be assessed.
Pet Policy
Leashed pets are always welcome on the property; but are not allowed in some of our rentals. However, we do allow service animals and a service animal may have stayed in a rental.
After Hours Arrival
If you need to arrive outside of normal business hours, please refer to the Late Arrivals information in your confirmed reservation email. Or, contact the campground at (804) 693-6924 prior to arrival to make late arrival arrangements.
Arrivals after 10 p.m. will be dry docked until 8 a.m. the following morning. This is in respect to our campers during quiet hours.
Reservation & Payment Policy
The rates displayed do not include any applicable service fees or charges for optional incidentals.
Your credit card will be charged Itinerary Total prior to arrival, up to a maximum deposit of one night rack rate. Any remaining balance is due prior to arrival.
Prices and site type are subject to availability.
The rates displayed do not include any applicable service fees or charges for optional incidentals.
By using a credit card for a deposit, guarantee or payment, you agree to the following: If I used a credit card for a deposit, guarantee or payment, I authorize MHC Property Management L.P. to charge any expenses incurred during my stay to that credit card or apply funds I have on deposit with MHC Property Management L.P. against what I owe.
Deposit & Payment Schedule
Daily
Mandatory 2 night reservations for weekends and 3 nights for holidays.
1 night midweek campsite reservations can be booked.
1 night campsite reservation for a weekend can only be booked on the day of arrival. (Overrides can only be approved by the Property Ops. Staff)
1 night rental reservation can be booked only 2 days in advance and there is a $10 surcharge.
1 to 5 Month
One month deposit is due at time of reservation.
Balance due upon reservation start date.
The method of payment for deposits is by credit or debit card. If deposit is made in person, cash and/or check are acceptable.
Check will be accepted if paid 30 days in advance.
Cancellation & Refund Policy
If a stay is one month or longer, the rate will be adjusted to the appropriate rate type (i.e. daily, weekly, etc.)
Refunds for death or extended hospitalization will be reviewed on an individual basis at the regional level.
Policy subject to change without notice.
In the case of multiple sites booked, cancellation penalties apply to each site that is cancelled or changed.
No refunds will be issued for early check-out.
RV campsites: We allow full refunds for cancellations up to 2 days prior to your arrival date for daily and weekly reservations.
Rental accommodations: We allow full refunds for cancellations 7 days prior to your arrival date for daily and weekly reservations.
Daily and weekly reservations: For cancellations received less than the required notice period prior to arrival, your deposit will be forfeited up to one night rack rate.
Extended stays: For long-term reservations (28 days or longer), we allow full refunds for cancellations up to 60 days prior to your arrival date. For cancellations received less than the required notice period prior to arrival, the deposit amount will be held on account for a future stay.
Campground Information & Services
To help meet our green incentive, gas golf carts are no longer permitted. Only electric golf carts are allowed in the resort.
Enjoy year-round camping in the great outdoors at Thousand Trails' network of campgrounds, with spacious campsites, hiking trails, fishing, and family fun.
Loading