Spectacular Columbia River vistas from a Wenatchee RV resort
If rest and relaxation is what you prefer, Crescent Bar RV Campground is the ideal Washington RV Campground for your perfect vacation. More than 300 days of sunshine per year provide ample opportunity to enjoy breathtaking vistas of the Columbia River and the Cascade Mountains that surround this Wenatchee RV campground in Washington. Don't miss out on a tranquil retreat. Book your trip to Crescent Bar RV Campground today!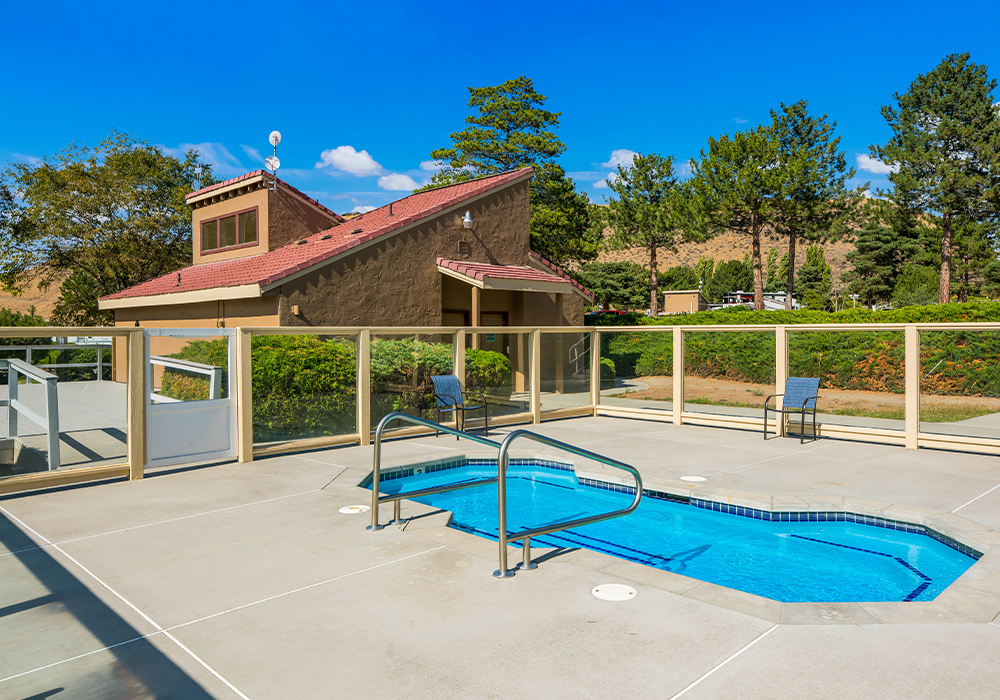 Amenities
Clubhouse

Swimming Pool

Whirlpool/Spa/Hot Tub

Near Beach

RV Storage

Pets Welcome

Restroom/Shower Facilities

Laundry Facilities

Horseshoes

Tennis Courts

WiFi Hotspot
Ways to Stay
Resort News
Crescent Bar Restroom Closure
Our restrooms are being repaired and will be closed until further notice.
General Policies & Information
General Policies & Information
Check-in/Check-out & Hours
Campsite check-in: 12 noon
Campsite check-out: 11 a.m.
Rental check-in: 4 p.m.
Rental check-out: 11 a.m.
Upon check-in you may be asked to provide a valid ID, and a certificate of insurance and registration for your camper. Members should also have their membership card on hand.
Minimum check-in age is 21 years.
Pet Policy
Leashed pets are always welcome to the resort; but are not allowed in some of our rentals. However, we do allow service animals and a service animal may have stayed in a rental.
After Hours Arrival
For late arrival arrangements, please contact our Reservation Department at (877) 864-2728.
Reservation & Payment Policy
Your credit card will be charged Itinerary Total prior to arrival, up to a maximum deposit of one night rack rate. Any remaining balance is due prior to arrival.
Prices and site type are subject to availability.
Camping in passenger vehicles in prohibited.
The rates displayed do not include any applicable service fees or charges for optional incidentals.
Cancellation & Refund Policy
RV campsites: We allow full refunds for cancellations up to 2 days prior to your arrival date for daily and weekly reservations.
Rental accommodations: We allow full refunds for cancellations 7 days prior to your arrival date for daily and weekly reservations.
Daily and weekly reservations: For cancellations received less than the required notice period prior to arrival, your deposit will be forfeited up to one night rack rate.
Campsite Services & Information
Maximum of 6 persons per site. More than 6 persons will require rental of an additional site.
Extra vehicles (over 1 passenger vehicle) are charged $5 per vehicle, per night.
Enjoy year-round camping in the great outdoors at Thousand Trails' network of campgrounds, with spacious campsites, hiking trails, fishing, and family fun.
Loading